McLaren Speedtail debuts as unofficial F1 successor
The McLaren F1 is revered to be one of the best, if not the best supercar the world has ever seen. Even though the British brand churned out many supercars and some hyper cars, none of them had been even remotely considered to be a successor to the legendary F1, although there is a new model that will attempt to do so yet again. 
Welcome the McLaren Speedtail. Shaped by aerodynamics and propelled by a modern hybrid power train, the Speedtail, though officially not confirmed by McLaren, is being touted as being the heir to the throne of the F1.
While it looks oddly dated and generic, the teardrop-shaped carbon fibre bodywork of the McLaren Speedtail is all about aerodynamics. It's not just the shape that helps it slice through the air. There are few very fine details that make it even more aerodynamic. The static air vents on the front wheel covers channel the air to the different vents on the car. There are no mirrors and a pair of retractable cameras does the same job. They feed visuals from the back into the cabin. A speed oriented "Velocity" mode retracts the cameras and hunkers the car down to aid aerodynamics.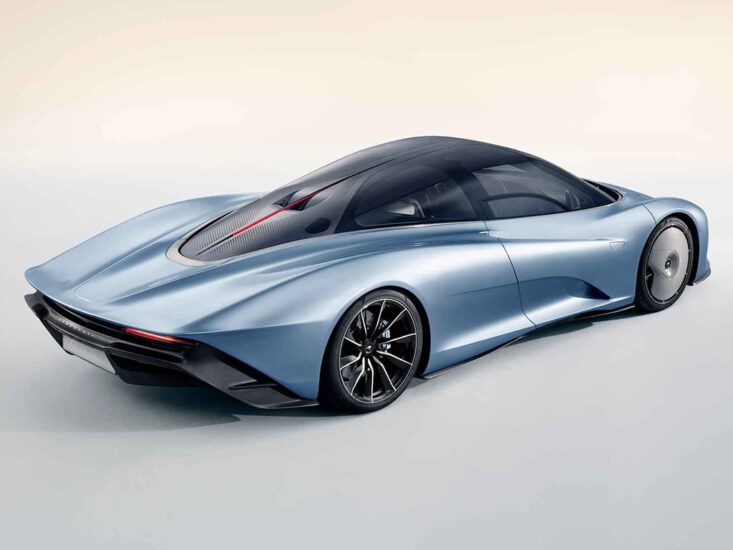 It doesn't stop there. The large rear panel houses moving ailerons that helps the car in achieving its top speed, bringing it to a halt or in high speed cornering. And thanks to the usage of to flexible carbon fibre, these are integrated into the rear panel instead of being separate pieces.
McLaren said nothing about the engine but the power — 1,035 hp of power is used to propel this machine from 0 to 299 kph in 12.8 seconds and onward to a claimed top speed of 402 kph. Let's take a chance and guess that the engine should be a combo of the 789-hp twin-turbo 4.0-liter V8 from the Senna and the electric motors from the McLaren P1.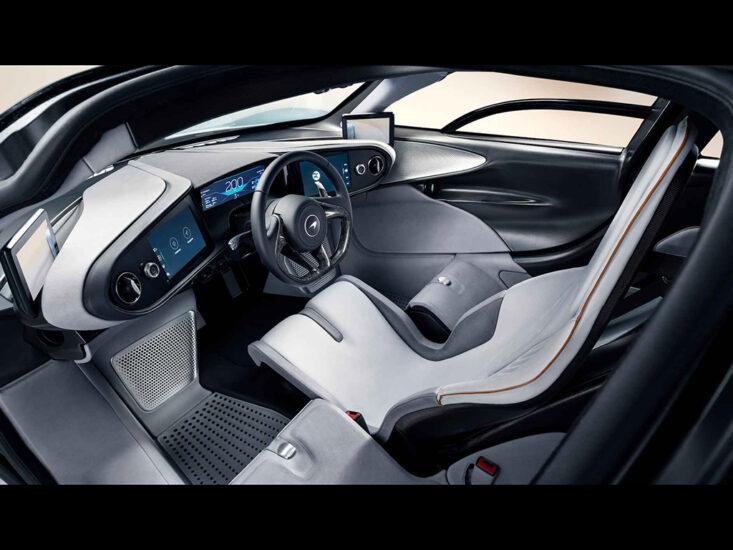 The interior is where the signature McLaren F1 trait stands out. The driver seat is placed right in the middle of the cabin while the other two seats are placed a bit offset to the back, on either sides of the driver seat. The cabin is opulent and futuristic. Several touchscreen panels line the dashboard. The Speedtail makes use of electrochromic glass to control the amount of light that seeps into the cabin.
If the idea of having an F1 successor in your garage lures you, you're out of luck unless you're one of the 106 people who have already secured one. McLaren has no plans to make any more of the Speedtail. In the meantime, you can probably dig up some photos of 1990s supercar concepts if you want to get your futurist fix, as envisioned two decades ago.