First drive: 2021 McLaren GT in the UAE
The McLaren GT is the British brand's most luxurious model in its extensive SUV-free lineup. While most McLarens are usually supercars with loud exhausts and small boots, this one is supposed to be — as the name suggests — their luxury grand touring model. 
At first glance, it does not look like your regular grand tourer. It has that familiar McLaren design – short front end, swoopy tail and low roofline, along with the fact that it still has only two seats and a rear mid-mounted engine. All other true GTs have a couple of tiny back seats to give some semblance of practicality.
The McLaren GT still retains the ultra-cool upward-opening doors. Another first for a McLaren is it has a soft-closing door function as well.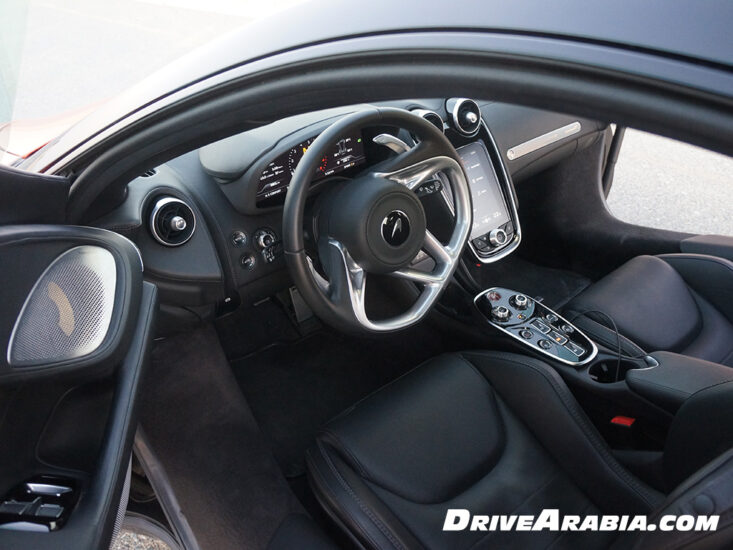 Sitting inside the McLaren GT, you are welcomed into a sea of leather. Our car had the carbon black Nappa leather interior wrapped pretty much everywhere – the dashboard, doors, seats and centre console. The seats are much more comfortable as well compared to other McLaren models. They are still quite snug but it seems to have more cushioning. The doors also have small pockets for storage to keep small items like your mobile phone or sunglasses. There is some side netting on the passenger side under the dashboard to keep more stuff, but there is no glovebox or centre storage area.
The infotainment system is a long vertical screen, like a bigger version of your smartphone. However there is no Android Auto or Apple CarPlay. The touchscreen works well enough with no delays and swiping through the menus is similar to your smartphone. The AC fan speed controls are controlled on the touchscreen rather than knobs or buttons, but it didn't bother us too much since we just left the climate control at Auto.
The front boot has about 155 litres of space. Looking at the back, there is no separate active spoiler, but has a lip integrated into the boot lid. The rear liftgate opens up automatically and holds the record for the longest power-assisted boot lid. Again to increase practicality, McLaren has made this space as useable as possible. It offers about 420 litres, so there is enough space for your hypothetical golf bag (since all rich people play golf). They added many attachments to hold down your luggage as there is no barrier between the boot and the seats. The model we tested came with the an optional special "aerospace" material called SuperFabric for the boot floor so it does not scratch and stain easily.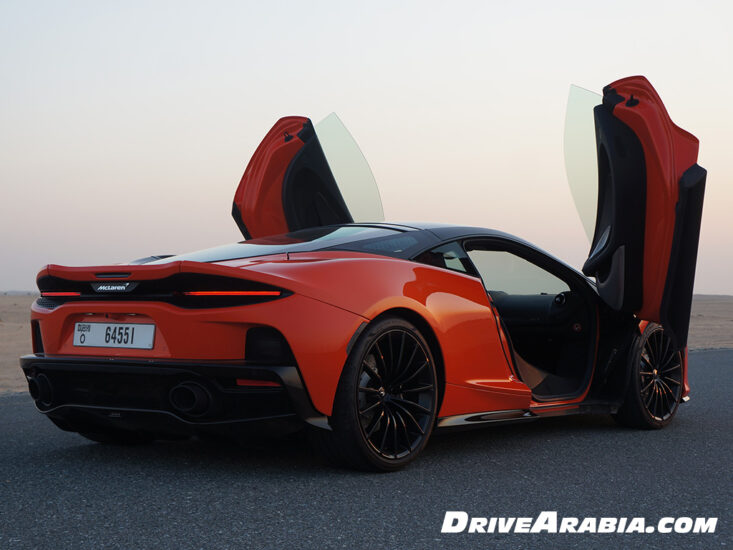 The McLaren GT gets a 4.0-litre turbocharged V8 engine, mated to a 7-speed dual-clutch automatic gearbox. This powerunit produces 612 hp and 630 Nm of torque, enough to propel it from 0-100 kph in 3.2 seconds. These staggering numbers certainly don't sound like your regular GT car. Our test run wasn't far off as we managed 3.5 seconds with the launch control. Keep pushing it and you can hit a theoretical top speed of 326 kph.
Driving the GT was certainly more forgiving than the last McLaren we drove, the 570GT. First thing you notice when you switch on the car is how quiet the exhaust is, but you will still hear a slight drone from that V8 while you are cruising. It sounds quite nice though when you are accelerating and exhaust note becomes slightly louder when switching to Sport mode.
There is a feature to lift the front nose up slightly to help you over humps, but even then, this is still a very low car and like other supercars, you tend to hold your breath when going over speed breakers.
Unlike the other McLarens we drove where driving for too long can get uncomfortable, the GT seats and softer suspension are much more forgiving on your behind.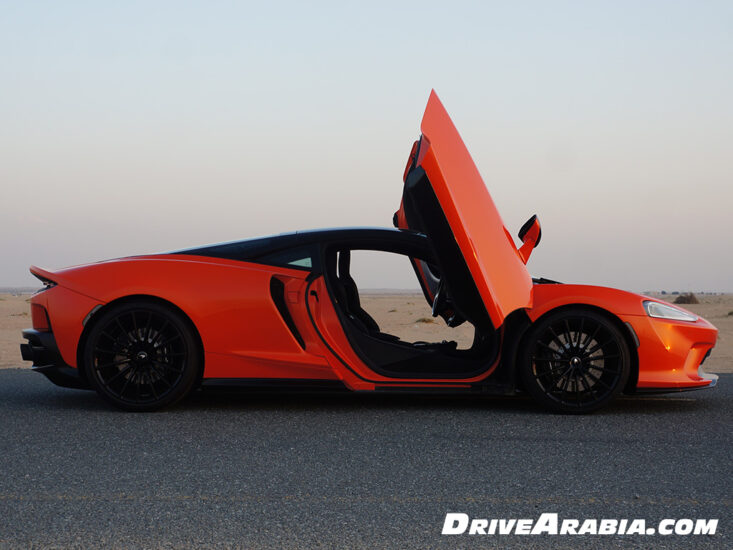 During spirited driving, the mid-engine characteristics of the car shine through, with tremendous grip on well-paved roads. The precise steering, instant throttle response, lightning-quick gear shifts and break-neck acceleration make it a pleasure to drive around twisty tarmac.
The steering is hydraulically assisted rather than electric so it gives you a lot of feel which enhances the experience. It definitely drives more like a supercar than the GT it claims to be.
The brakes require a bit of getting used to as they are not overly assisted and requires extra pressure on the pedal. But expectedly, they're strong and fade-free.
At the end of the day, this McLaren GT is built on the 720S base, which is an out-and-out supercar (which we haven't driven, but we did drive its 12C-based predecessors). There is only so much you can do to tone down that carbon-tub chassis to create a Bentley rival. McLaren have done a decent job on the interior luxury, luggage space, quieter cabin and ride quality. However, the GT still only 2 seats, has a shallow boot, and getting in and out of it still takes a level of dexterity that golfing enthusiasts may lack.
Overall, we think this is a great buy for folks who want a softer supercar, and it's priced to compete with the influencer-special Lamborghini Huracan and the more-subtle Ferrari Portofino. However, the points of differentiation between all the models in the McLaren lineup is very tight, and we'd like to see the British supercar brand break their mould and be more adventurous — do a shooting brake maybe?
See UAE prices in the McLaren buyer guide.
Photos by Marouf Hussain and Mohamed Naeem.