First drive: 2021 Lotus Exige 410 20th Anniversary in the UAE
Cars like the Lotus Exige have become rare. Actually they are pretty much extinct, as the Exige ceased production in 2021, as did the Elise and Evora, to be replaced by the more-modern new Emira. We got a chance to drive the Exige 410 Anniversary Edition. The Exige has been around since 2000, but still as exciting to drive, if not more so.
As the name Exige 410 suggests, the Toyota-sourced 3.5-litre V6 engine is supercharged and tuned by Lotus to produce 410 hp. Not supercar horsepower numbers, but slap it on a lightweight chassis and you are in for some fireworks. The Exige 410 weighs around 1,100 kg. This is enough to propel it from 0 to 100 kph in just 3.4 seconds. A lot of things have been taken from the track-ready Exige Cup 430 parts bin, but just enough Exige 350 parts are there to keep it road-friendly.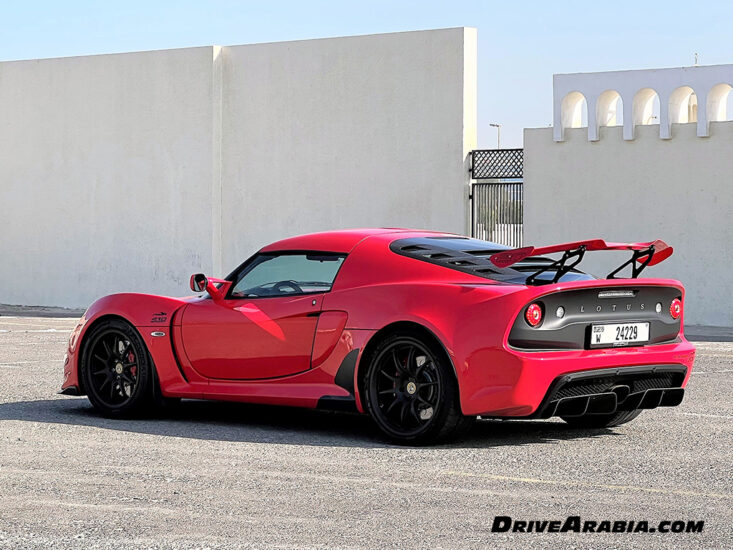 The car looks like a proper race car, sitting low to the ground with a big carbon-fibre wing at the back. A lot of carbon fibre has been used on this car to keep the weight low. It has a carbon-fibre front splitter, front access panel and tailgate. There is a lightweight aluminium rear diffuser and a polycarbonate backlight glass. The car sits on Lotus-designed ultralightweight, machined and forged aluminium alloy black wheels, with 17s in the front and 18 inches at the back. Wrapped around those wheels are Michelin Pilot Sport Cup 2 tyres. The roof can be opened manually.
This is the 20th anniversary so it comes with retro-inspired colours and design features that pay tribute to the original Exige Series 1.
Inside are just two carbon-fibre seats, very lightly padded and trimmed in Alcantara and leather. There is an Alcantara trimmed steering wheel and the centre is a basic stereo with Bluetooth and 2 speakers. No screens or Apple CarPlay here. Sitting in the centre is the glorious-looking open-link 6-speed manual gearbox. Air-conditioning is an optional extra but we are pretty sure it is standard for our region. While admittedly there isn't much inside, it is well put-together and quality materials all around.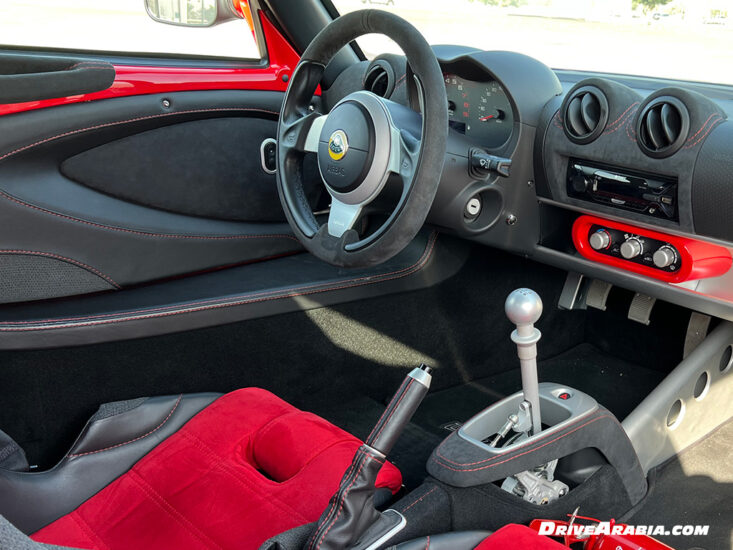 Getting in and out of the car is a task itself. We suggest a few stretches before entering this car. Once inside, the sports seats are not comfortable, to put it mildly. The only thing you can adjust is the seat moving fore and aft. The steering column is fixed. To start the engine, you have to insert and twist the key, pop in the clutch and then press the starter button. The car starts up with a roar. There is a button next to the steering column to keep the exhaust valves open.
The clutch pedal is on the heavier side and there is no power steering. Parallel parking isn't a fun task, but the car is light enough so you can manage.
Once the car starts moving, that is when it all comes together and you truly begin enjoy this car. That sound of the metallic clink from shifting gears to feeling every bump and pebble on the road through the unassisted steering, it is an absolute blast to drive, especially through those curvy mountain roads.
The pedals are positioned quite close to each other. While on a right-hand drive car, the pedal placement might feel great, it is not the best for our region's left-hand-drive car, because there is little to no room to rest your left foot, except on the clutch pedal itself.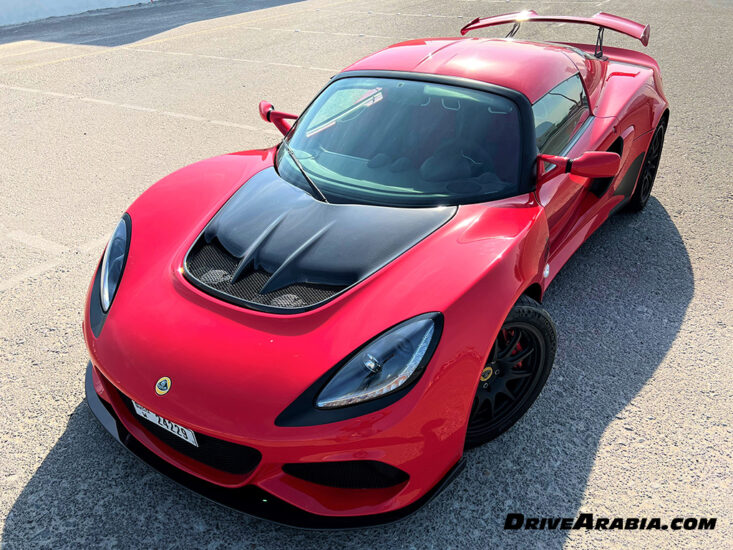 Throttle response is instant and the brakes are strong. This car was built for the turns, and given the space, we took most corners at ridiculous speeds. The traction control is clever and forgiving, stepping in when necessary, making you feel like a better driver than you actually are. If desired, the traction control can be switched off completely.
It's no slacker in a straight line and hitting hundred in 3-something seconds is very close to supercar territory. The car sounds cracking as well with the exhaust open, the supercharged V6 whistling and shrieking at full throttle, while popping and banging on deceleration. There is no sound-deadening in this interior, so expect to hear everything.
The Lotus Exige 410 is the definition of a driver's car. Pure, unfiltered and raw driving pleasure and there is no other production car like it, except maybe another Lotus. KTM X-Bow? That has no roof so you can't pop out for a drive in the summer. Need something more comfortable? Pay double and get a Porsche 911 GT3.
In 2021, we drove a couple of exceptional electric cars which will become the norm soon. So driving this car felt even more special. Driving the Lotus Exige 410 is an experience, which can't be matched by any of the numbers-chasing automatic supercars that get influencer screen-time nowadays.