We took the 2022 Jeep Gladiator Sand Runner to the Gulf News Fun Drive
The Jeep Gladiator made its debut back in 2020, after continuous rumours floated around for years of a Wrangler pickup. When it did come out, the design didn't disappoint – having that distinct front-end of a Jeep Wrangler we have been accustomed to and appreciated over the decades, with the utilitarian body of a four-door pickup. However, the extended length and extra weight over a Wrangler had people understandably raise the question in our region – how well does it do in our desert terrain? We decided to answer that question by taking the Gladiator's latest trim – the Sand Runner to do some proper dune-bashing in one of the region's popular offroad camps in Tilal Swaihan, Abu Dhabi during this year's Gulf News Fun Drive.
What we appreciate about the event is the people who lay the route provide a pretty challenging course and it was no different this year. This really put the capabilities of the "Desert-Rated" Jeep Gladiator Sand Runner to the test.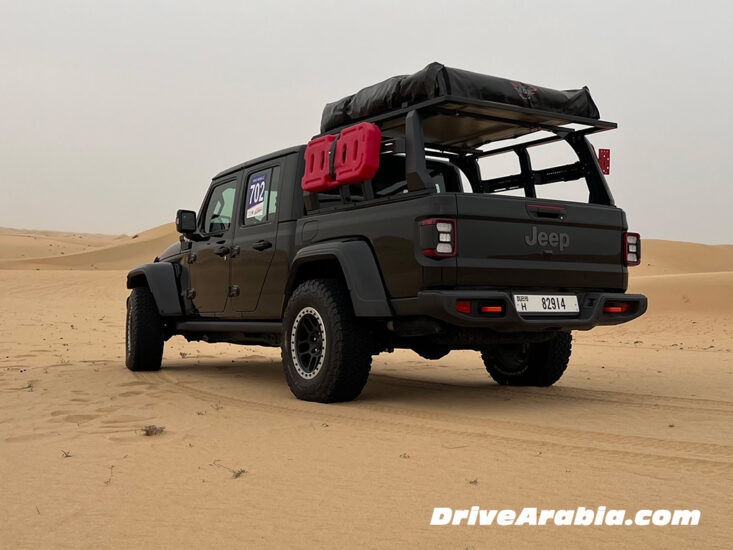 The Sand Runner comes with a built-in air compressor neatly tucked under the back seat, so deflating the tyres was no task. We simply sipped on our chai as our 2-tyre air system had all 4 tyres deflated to exactly 17 psi within a few minutes.
After that we just shifted the transfer case to 4H and pressed the "Off-Road Plus" button which does adjustments to the throttle, transmission shift points and traction control for peak performance on higher speed passes on sand terrain as well as during low-speed soft sand and rock crawling conditions. In addition, for the first time on a Jeep, the Off-Road Plus drive mode enables drivers to lock their rear axle at high speeds while in 4H.
The Gladiator Sand Runner gets a 3.6-litre V6 engine, which produces about 285 hp and mated to an 8-speed automatic. This is more than enough power when it comes to dune-bashing.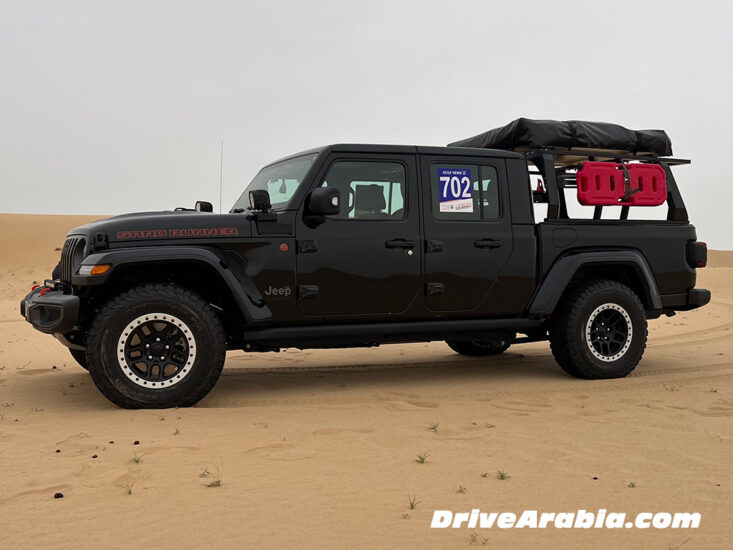 What makes the Sand Runner better than your average off-road SUV are the Fox 2.5-inch internal bypass shocks with external reservoirs, Fox front hydraulic jounce bumpers, a 1-inch front suspension lift, a front skid plate, stronger axles with cast-iron steering knuckles, and standard 33-inch tyres. The 1/2-inch increase in the Sand Runner's track allows for the packaging of the larger shocks. Jeep says they also reinforced the frame.
Our test vehicle came equipped with a full-blown bed rack, with heavy duty offroad equipment and a tent for camping, easily adding at least another 100 kilos.
So how did we do? There was no "break-in" period on the trail for the GN fun drive and there were quite a few large dunes at the beginning itself. But with each passing metre we drove, our nervousness turned to excitement. And with each dune conquered, our confidence grew.
The Gladiator Sand Runner gives you the trust to drive it like you mean it in the desert. It has an approach angle of 44.7 degrees, breakover angle of 20.9 degrees, departure angle of 25.5 degrees and ground clearance of 11.6 inches (295 mm).
Combined with the fact it has metal bumpers on the front and back, front-facing and back-facing camera, "Off-road pages" app in the infotainment feeding real-time data, and much more – attacking dunes doesn't seem intimidating and we were having fun.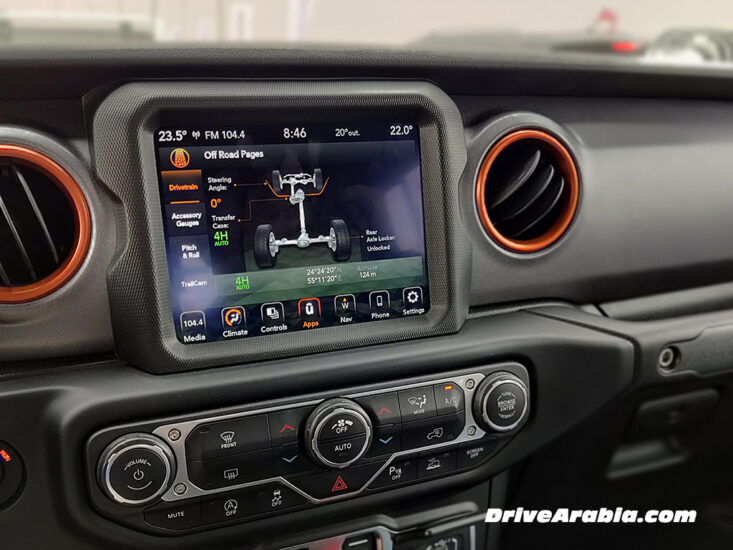 We drove the Gladiator Sand Runner through 70 km of desert. We got ourselves stuck on a couple of occasions but that was because we had to brake hard when an SUV in front of us slowed down too quickly. A simple shift to 4L and gently pushing the power had us out without the need to do any digging.
The Fox shocks really elevate the ride experience in the dunes. We had experience off-roading with bone-stock Wranglers so we could really feel the difference when driving this, especially when going over some of the flatter off-road surfaces or gravel trails where we could drive a little quicker.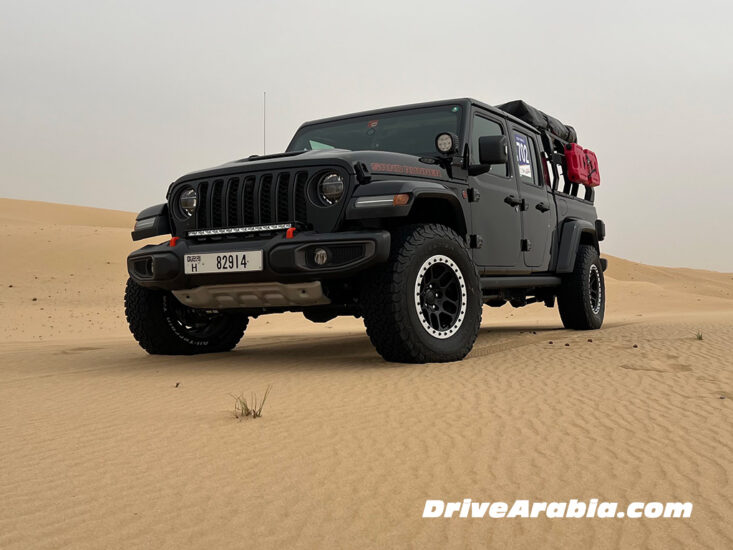 Being the noobs that we are, we finally did manage to get ourselves stuck near the end of the journey when we let off the gas too early when driving up a dune and got ourselves beached on the crest of the dune. A marshal was on hand (who happened to be in a Jeep Wrangler Unlimited) and a quick hook up of the tow rope on the winch-friendly steel front bumper had us out in no time.
After driving through 70 km of desert, mostly on soft sand and some gravel routes, the Jeep Gladiator Sand Runner managed to overcome all the obstacles thrown at it without a scratch, even at the hands of a casual off-road driver. It definitely deserves the "Desert-rated" badge on the side.
Photos by Mohammed Naeem and Marouf Hussain.